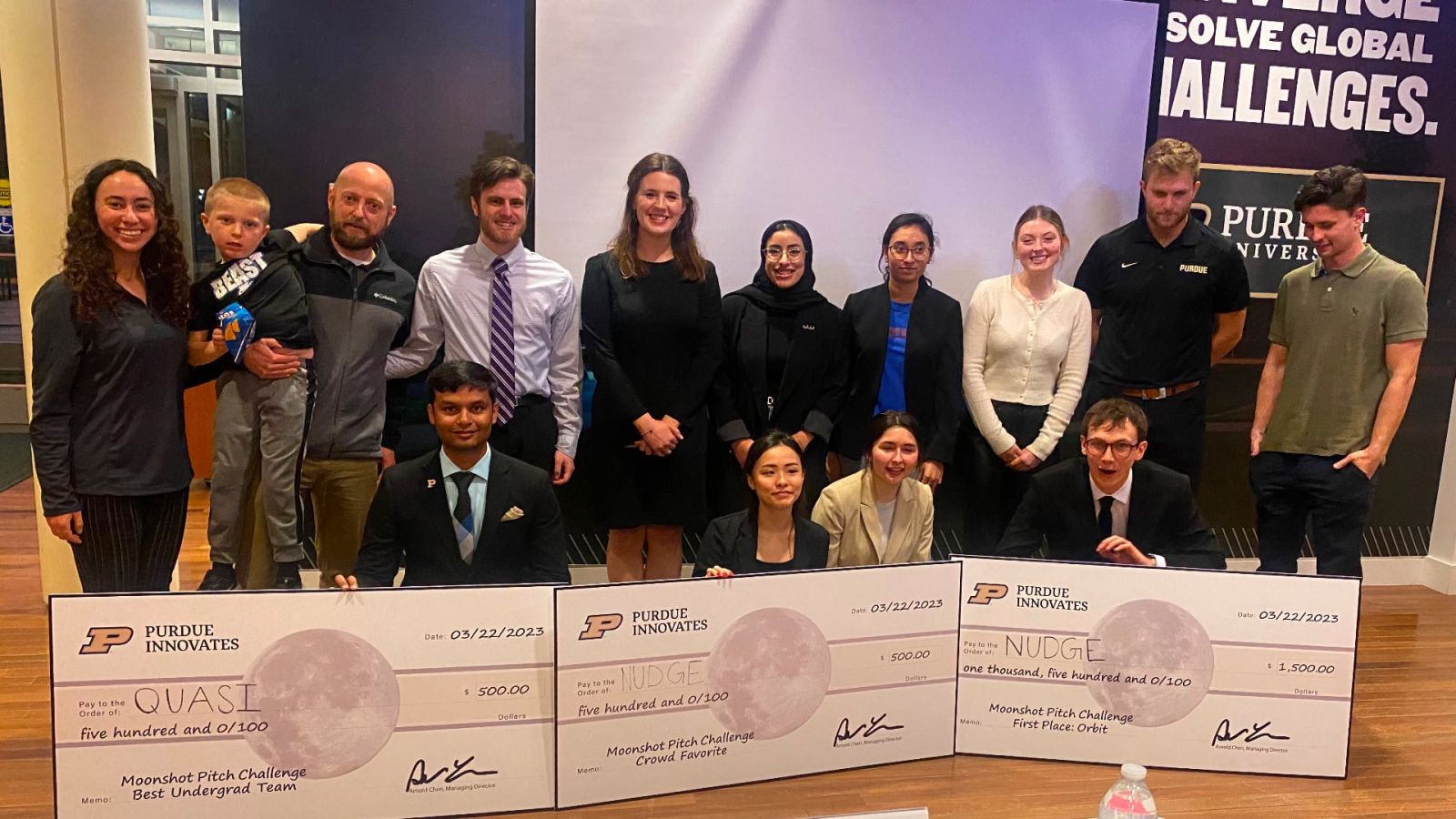 Design & Innovation students in the Department of Technology Leadership and Innovation at Purdue University's Polytechnic college earned first place and other top marks in annual Moonshot Competitions sponsored by Purdue Innovates. These competitions provided a platform for students to tackle real-world challenges and present innovative solutions.
"The projects are remarkable, and they highlight the exceptional problem-solving abilities of our Design & Innovation students," said Greg Strimel, assistant department head and assistant professor of technology leadership and innovation. "In competitions these past two years, they have both demonstrated exceptional abilities and claimed top honors."
The Moonshot Pitch Challenge, a platform that encourages students to think beyond the classroom and propose innovative solutions to real-world problems, is divided into three categories: Earth (Social Ideas), Orbit (Business Ideas), and Moonshot (Dent in the Universe Ideas). The following projects earned recognition in recent competitions.
Nudge: First place (Orbit category) & crowd favorite
Nudge, the brainchild of Brady Hawks, Cecilia Sanchez and Shannon Su (TECH 34000/MGMT 39100), is a wearable patch that serves as an alarm clock device to assist those experiencing issues with hearing loss.
The Remedy Glove: First place (Orbit category)
Presented by Abigale Haluska (TECH 34000/MGMT 39100), this innovative glove offers a multifunctional therapeutic solution for individuals suffering from arthritis. Combining heat, vibration, compression, and cooling, the Remedy Glove provides customizable therapy to relieve various symptoms associated with this condition.
Quasi Fiction: Best undergraduate team
Quasi Fiction, presented by Shantanu Roy (TECH 34000/MGMT 39100), is a trailblazing app where AI converges with storytelling, art curation, and comic creation to generate unique experiences catered to the user's preferences. With this app users can dive into a "choose your own adventure" journey, shaping narratives as they traverse through each chapter of their own story.
Inspire QR: First Place (Earth category)
Inspire QR, created by Grace Rode, Logan Hoag, Tommaso Graewe, Nicholas Guevara and Caylee Worthman (TECH 12000), aims to alleviate the stress and lack of motivation commonly experienced by college students. Using QR codes, students can access inspirational quotes and resources with a simple scan, providing a quick boost in morale and productivity.
The Concussion Detection Patch: Best undergraduate team
The Concussion Detection Patch, created by Blake Shore, Jake Russler and Rohit Koganti (TECH 22000/ANTHR 38400/TECH 34000), addresses a critical issue in youth sports. This patch is designed to be placed inside football helmets, detecting forces that may lead to concussions. It alerts coaches, players and staff when a player must be evaluated for a potential concussion, ensuring their safety.
Tech 2 U: First Place (Earth category)
Tech 2 U, developed by Jennifer Blackburn and Ralph Rivera (TECH 12000 graduate student instructors), is a service designed to offer a technology lending library for children and schools to acquire and use a variety of STEM education toys and tools in a more affordable manner.
Participating in competitions helps students demonstrate their problem-solving abilities. But competitions also present opportunities for the department and college, according to Strimel.
"As new competition seasons approach, students gear up to tackle fresh challenges and showcase their commitment to addressing real-world problems," Strimel said. "Competitions benefit all of us by bringing together teams and instructors from different disciplines through our design and innovation coursework."
Competitions represent a significant investment in time and effort for students, said Todd Kelley.
"Our students' success goes beyond competition victories," said Kelley, professor of technology leadership and innovation and head of the department. "It reflects their dedication and talent in addressing pressing issues. These achievements also underscore the importance of fostering innovation and design thinking within educational institutions like Purdue."