Join us for Welcome Week during the first week of classes, August 21-25, 2023!
Welcome Week Events

Day
Events

Monday, Aug. 21

10:00 a.m. – 3:00 p.m.
Dudley Lobby (Grant St. entrance)

Capture This Moment

First take some old-school selfies, then make sure to grab a snack and supplies for your first week! Chat with the RRD staff about tutoring and other free resources.

Tuesday, Aug. 22

11:00 a.m. – 2:00 p.m.
Outdoors between Knoy and Dudley

You Belong Here!

Join us for lunch, and learn about what Purdue has to offer, from campus-wide groups and cultural centers to Polytechnic's study abroad and clubs.

Wednesday, Aug. 23

1:00 p.m. – 3:00 p.m.
Outdoors between Knoy and Dudley

Open House

During our ice cream social, make sure to visit the different departments within the Polytechnic and some of our college-wide clubs. Collect a small token at each location!

Thursday, Aug. 24

4:00 p.m. – 6:00 p.m.
Knoy Lobby

Alumni Mixer

Stop by around dinner for a collection of fun mocktails and finger food and talk to Polytechnic alumni.

Friday, Aug. 25

11:00 a.m. – 3:00 p.m.
Outdoors between Knoy and Dudley

Techie Cookout

Pull out all the stops with Polytechnic on Friday at this all-afternoon event with catering, music, outdoor games, photo opportunities and more!
Get a Techie T-Shirt

Along with a lot of fun activities, Welcome Week is your chance to pick up this year's new Techie T-shirt! While supplies last, shirts are available in unisex sizes from XS to 4XL.
Shirts are for exclusively for current Polytechnic students, staff and faculty.
Purdue ID required for shirt pick-up. In-person pick-up only.
Win a pair of Apple AirPods Max headphones — learn more!
T-SHIRT DISTRIBUTION

Knoy lawn or lobby (depends on the weather)
Monday: 9:00 a.m. – 11:30 a.m.
Tuesday: 12:00 p.m. – 2:00 p.m.
Wednesday: 1:00 p.m. – 3:00 p.m.
Thursday: 1:00 p.m. – 4:00 p.m.
Friday: 12:00 p.m. – 3:00 p.m.
When they're gone, they're gone. Don't miss out!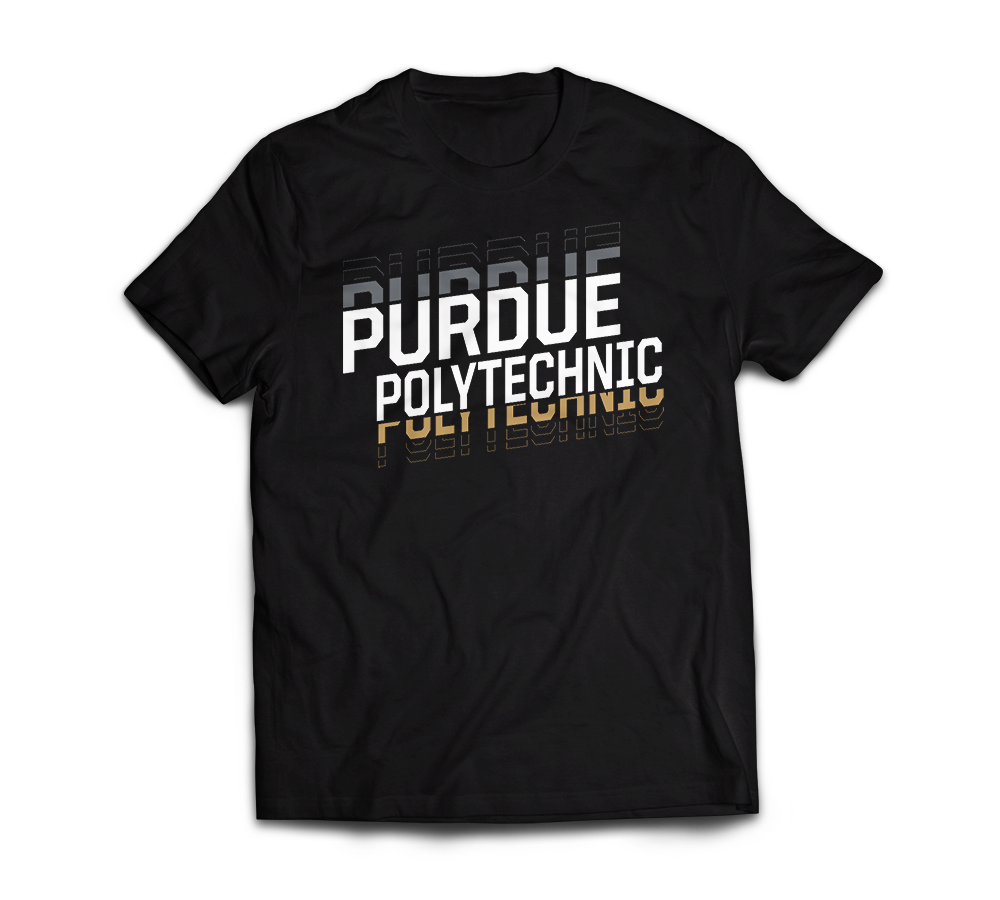 Purdue Polytechnic Social Media Giveaway

Here is how you can win:
Follow us on Instagram
Post a picture rocking your new Polytechnic Tee
Tag us (@techpurdue) in your post
By completing these simple steps, you'll automatically be entered into our giveaway for a chance to win.
Deadline for entry: September 1, 2023
This giveaway is open to all Polytechnic students. The winner will be selected from eligible participants who complete all the requirements. There must be a minimum of 25 participants for the prize to be awarded.
/techPurdue ​