Purdue's technology courses are taught at the Purdue Polytechnic Institute's (previously named the College of Technology) classrooms and laboratories in the Purdue Technology Center of Southeast Indiana. This state-of-the-art facility is located at the southeast corner of the I-265 and Charlestown Road interchange in New Albany. Feel free to stop by and check out our laboratories.
What can Purdue University at New Albany do for You?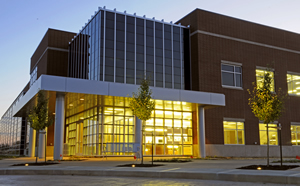 Graduates make a difference every day working on the world's pressing challenges: energy, homeland security, advanced manufacturing, healthcare leadership, and more.
The college offers you the opportunity to complete the following undergraduate majors:
Students at New Albany complete the same coursework as students attending Purdue's main campus in West Lafayette. All technical courses in New Albany are delivered by fully credentialed Purdue faculty, and graduates earn a Purdue University diploma and receive a Purdue University transcript.
In-state tuition for select Kentucky counties

If you are a Kentucky resident of Jefferson, Oldham, Meade, Bullitt, Shelby, Spencer or Trimble counties, then you pay Indiana in-state tuition rates at the Purdue Polytechnic New Albany.