A professor in Purdue Polytechnic's Department of Technology Leadership & Innovation has been recognized for his contributions to the college's research mission. In May 2020, Mesut Akdere received the Polytechnic's Outstanding Faculty in Discovery award and he received a Purdue Seed for Success Award in November.
But his work as a faculty member extends beyond the realm of research. In addition to serving on editorial boards of academic journals and presenting at numerous conferences, Akdere spearheaded the creation of human resource development, a popular new undergraduate major. Additionally, his mentorship has enabled many students to earn achievements of their own.
Akdere earned a bachelor's degree in English language and literature at Istanbul University, a master's degree in human resources development at Ferris State University, and a doctorate in human resource development with a minor in human resources and industrial relations from the University of Minnesota. Before joining Purdue's faculty as an associate professor in 2015, Akdere was an associate professor of human resource development at the University of Wisconsin-Milwaukee and a visiting professor at the University of São Paulo. He was promoted to full professor in 2020.
Akdere now serves as the program lead of human resource development (HRD) program, the director of Purdue HRD Virtual Lab, the director of Purdue HR Analytics Interactive Learning Lab and the director of the Purdue Cyber Apprenticeship Program Leadership Academy.
Using augmented and virtual reality

Akdere serves as co-leader of "Future Work and Learning," a Purdue Polytechnic "research impact area" that scientifically studies the intersection between work, learning, and technology to enable an inclusive and cutting-edge workplace of the future through participation, engagement and lifelong learning. His research focuses on leadership development through simulated training via augmented reality (AR) and virtual reality (VR) environments, workforce development in science, technology, engineering, and math (STEM) fields, and human resource analytics in the age of big data.
"After studying [augmented reality and virtual reality] more closely, I realized how they can transform human resource development."When AR and VR technologies began surfacing in industry, he began to think about how they could benefit his discipline.
"As a scholar, I always value my relationship with the industry as it enables me to closely monitor advances and innovations and maintain my awareness about them," said Akdere. "After studying these simulation technologies more closely, I realized how they can transform HRD, especially around workplace training and workforce development. I was also cautious, like any scientist, partially because we as human beings have the tendency to embrace technology without fully understanding its potentials as well as impacts that can be problematic. I established the Purdue HRD Virtual Lab to empirically study these technologies within the context of my field. Advances in artificial intelligence (AI) enable more personalized learning opportunities that were previously unavailable. The latest virtual reality-based simulations we developed in the lab, for example, are all AI-powered, enabling more interactive learning in training."
Magnet for research funding

Since joining the Polytechnic, Akdere has led or been a member of collaborative teams resulting in over $14 million in externally funded research. The $5 million for which Akdere was responsible includes projects such as:
Purdue Cybersecurity Apprenticeship Program (P-CAP): With funding from the U.S. Dept. of Labor, the project sought to develop a scalable program to create a steady pipeline of skilled workers to both solve employers' workforce shortages and create a successful pathway to high-paying jobs for participants.
"I am very excited to be part of this important project in preparing the country's future cyber workforce and helping them develop knowledge, skills, and abilities that will help them become effective professionals," said Akdere.
Cyber Resilience Adaptive Virtual Reality Experiences (CRAVRE): Funded by the U.S. Department of Homeland Security, the CRAVRE developed an innovative virtual reality-based training program to increase awareness around cybersecurity threats among states and communities to enable them effectively manage cybersecurity incidents that may emerge during a concurrent disaster. The program used an AI-powered learner-in-the-loop personalized learning module with adaptive granularity to meet the needs of both the individual and the prescribed outcomes of the training.
"Mesut has developed a track record in developing high-impact research and learning. His research continues to lead the way.""As the principal investigator of this project," Akdere said, "I am thrilled to be working with an excellent interdisciplinary team of researchers to develop a cutting-edge training program to enhance public safety professionals' awareness of the threats posed by cyberattacks that emerge during a disaster. I am honored to be supporting the great work these heroes — from healthcare professionals to police officers and fire fighters — do every day to secure and ensure well-being of our citizens and communities."
Developing Business Communication Skills in Manufacturing Technician Education: Funded by the National Science Foundation, the project included development and testing of an adaptive virtual reality (VR) business communication skills education program for manufacturing technology students; facilitation of an interdisciplinary faculty develop workshop; and creating an externship program for faculty in manufacturing technology education.
"In addition to having excellent technical skills, today's workplace requires workers to demonstrate non-technical interpersonal skills through effective collaboration and ability to lead are among the top 10 skills for 2025 according to the World Economic Forum," said Akdere. "This project pioneers the use of innovative technologies for the development of a highly skilled manufacturing workforce."
Archives Leadership Institute (ALI): The National Historical Records and Publications Commission funded hosting for three years, including the development and implementation of an innovative curriculum centered on four themes (leadership, technology, intercultural competence, and archives advocacy), and developing virtual reality-based training simulations to be used in archivist training.
"Through this project, we explore how innovative training technologies can help professions such as archives accelerate their workforce development efforts," said Akdere.
Developing Young Innovative Entrepreneurial Leaders in STE(A)M Fields in Eastern Marmara Region: This project, funded by the U.S. Department of State, included curriculum content development for a science, technology, engineering, arts and math-based entrepreneurship program offered to Turkish youth, including a digital entrepreneurship training toolkit in Turkish.
According to Akdere, "entrepreneurship is a relatively new concept in Turkey, which has the largest youth population in Europe. This project is very special to me as it aims to make a difference in the lives of the Turkish youth while strengthening economic prosperity and fostering Turkish and U.S. ties."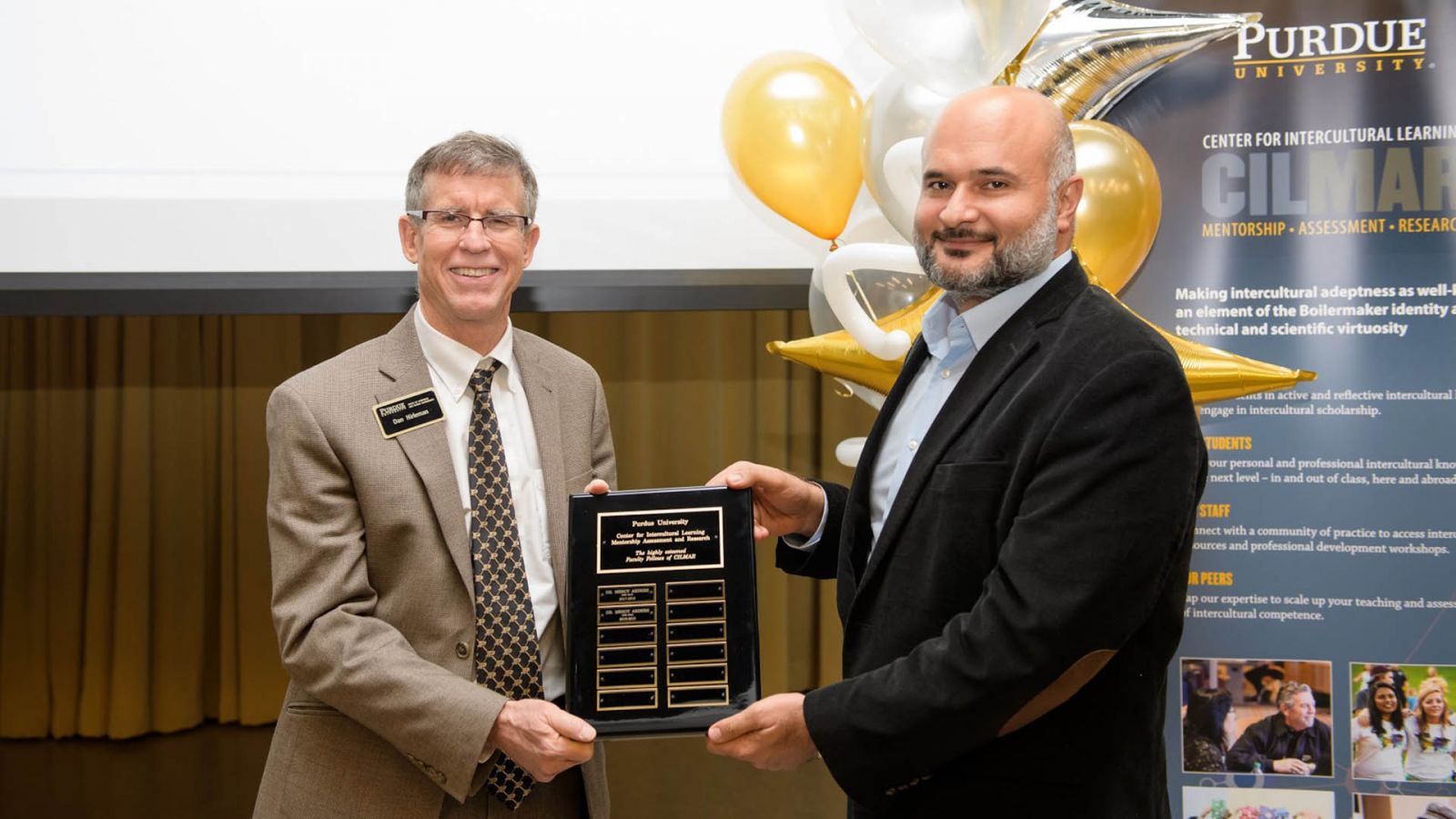 Colleagues from around campus praise Akdere and his contributions to research.
"Mesut is an excellent colleague who has developed a track record in developing high-impact research and learning in human resource development," said Stephen Elliott, head of the Department of Technology Leadership & Innovation. "His research continues to lead the way in HRD, incorporating cutting-edge technologies including augmented reality."
"Mesut Akdere is extremely deserving of the Polytechnic's Outstanding Faculty in Discovery award," said Stacey Connaughton, professor of communication and director of the Purdue Policy Research Institute (PPRI). "Mesut's commitment to innovative transdisciplinary research and his expertise in talent development, program assessment, leadership, cross-cultural communication, and workforce education contributed to our paths having crossed. Since then, Mesut has been an extraordinary colleague and contributor to the Purdue Policy Research Institute. He exemplifies innovation in all that he does – in his idea generation and knowledge production, grant writing, external funding record, and program development. Mesut is also a team player and a joy to work with. The PPRI team and I congratulate him on this extremely well-deserved recognition."
Boards and conferences

Akdere has been appointed to several boards and committees. He has also hosted or presented at several conferences, considering it a natural extension of his work.
"Conferences are venues in which we not only disseminate our scholarship but also engage in discussions and debates that help us challenge our own knowledge and assumptions," Akdere said. "They help us stay sharp by making us vulnerable, through sharing our work with the rest of the scientific community and opening ourselves to comments and criticism. It's important to humble ourselves so that we can recognize what we do not know and need to learn."
In 2016, Akdere was appointed to the Board of Examiners of the Baldrige Performance Excellence Program of the National Institute of Standards and Technology by the U.S. Department of Commerce. He was reappointed in 2017. The program oversees the Baldrige Award, the nation's only presidential award for performance excellence, while offering criteria, assessments, tools, training and a community for those dedicated to helping organizations improve.
In 2017, Akdere gave a presentation to the NASA Academy of Aerospace Quality Workshop in Huntsville, Alabama, entitled "Exploring Mixed Reality for Developing Intercultural Team Skills: Implications for Space Exploration Teams." He spoke about training astronauts to be effective both in technical situations as well as everyday life scenarios in space by helping them develop skills and attitudes openness, empathy and curiosity in order to more successfully collaborate across cultural differences.
"It's important to humble ourselves so that we can recognize what we do not know and need to learn."Later that year, Akdere was a panelist at the Ninth Annual National Security Scholars Conference, a forum held by the U.S. Air Force in Washington, D.C. He emphasized the role of diversity and culture in the context of innovation and utilizing knowledge management (software) systems to create a repository of ideas and approaches for innovation. He also discussed talent mapping, the process of examining the strengths of an organization's current workforce and comparing it to the organization's projected needs.
In 2018, Akdere was named a faculty research fellow by the Center for Intercultural Learning, Mentorship, Assessment and Research (CILMAR). He conducted an experimental research study on developing intercultural leadership competency through virtual reality (VR) in STEM fields. As part of the study, he used pre- and post-testing, qualitative self-reflection analysis and biometric data to study the augmentation of human cognition in the context of intercultural leadership competency. He also led the production of two creative works that are publicly available.
Akdere hosted 20 professional archivists at Purdue for the 2019 Archives Leadership Institute. He incorporated VR technology into the convention as another means of training the archivists, giving them the knowledge and tools to transform the profession in practice, theory and technology.
"This was really about incorporating future learning technology into the leadership development training field of archives," he said of the project. "Virtual reality provides interactive, immersive experiences that support the development of trainees' cognitive abilities."
Akdere was also invited to join a task force at the 2020 summit of the G20, the premier forum for international economic cooperation, in Riyadh, Saudi Arabia. His policy briefing was entitled "Re-skilling Employees for Future Work: How G20 countries can utilize immersive learning technologies to scale up workplace training," which explored the potential of immersive VR and AR technologies in employee re-skilling in the face of rapid automation, digitalization and artificial intelligence.
Mentor to students

"As a scholar, my most cherished moments are when students discover something for the first time. They have this look on their faces, and you know they got it."Akdere collaborates on research with undergraduate and graduate students, publishing and presenting with them in scholarly venues. He has also provided opportunities for students to learn about leadership. He served as director of the Purdue Polytechnic Leadership Academy in 2017, helping over 200 students develop leadership competencies needed for career success in the 21st century.
"As a scholar, my most cherished moments are when students discover something for the first time," he said. "They have this look on their faces, and you know they got it. I also learn from interactions with my students. Seeing them present their papers at conferences for the first time and seeing them getting their first articles published are priceless. It is truly the most rewarding aspect of my work."
In 2018, Akdere and graduate research assistant Louis Hickman won "Best Paper in Human Resource Management" at the Eastern Academy of Management Conference. Their paper, "Organizational Socialization and Demographic Imbalances: The Effects of Cultural Dissimilarity," explored how to better retain women and minorities in STEM industries.
"Only by finding ways to make the existing work environment more welcoming can STEM retain these valuable human resources, which is necessary when considering the STEM skills-shortage in America today," noted Akdere.
New major in human resource development

Akdere led the effort to develop the Polytechnic's new human resource development (HRD) major. First offered in 2017, HRD is one of only a few similar bachelor's degree programs in the country. The major is designed to provide students with an interdisciplinary college experience developing core competencies at the intersection between technology and organization. Students must complete a minimum of 500 hours of work experiences related to human resources.
More than 20 HRD students completed internships in 2019, gaining real-world perspectives and learning more about the opportunities that await after graduation.
"Purdue, and the Polytechnic in particular, have been very supportive of my discovery efforts.""The internship requirement of our HRD program provides unique work experiences and professional development opportunities to our students while preparing them for their careers," said Akdere. "Students often receive an invitation to join the company as full-time human resources professionals upon graduation."
Isaiah Thomas (BS human resource development '20) received his professional certification from the Society for Human Resource Management (SHRM) two years earlier than most human resources professionals, making him the first HRD graduate to do so.
"This achievement wouldn't have been possible without the HRD capstone course that Professor Akdere teaches and the SHRM-approved curriculum of the human resource development degree program," said Thomas.
Akdere credits the supportive environment amongst faculty and a strong focus on research as reasons for coming to Purdue University.
"Purdue, and the Polytechnic in particular, have been very supportive of my discovery efforts," Akdere said. "Research is an enterprise, and faculty can't achieve much alone. You need institutional and peer support. At Purdue, I found that to be in abundance, and I am truly grateful for all the opportunities I have been given."
Additional information

Appointments, presentations and non-Purdue awards:
Purdue awards & recognition
Mentor to students