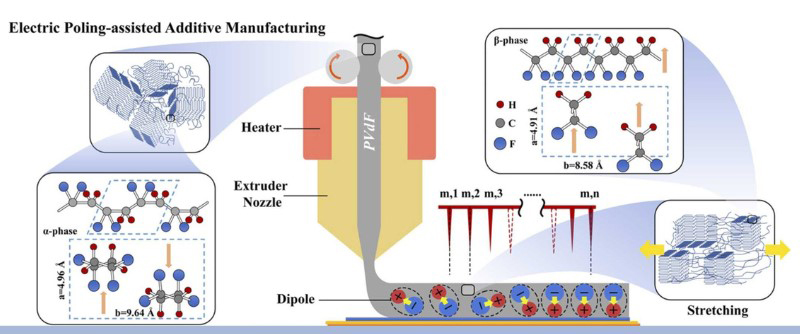 A new breakthrough by Purdue researchers has the potential to revolutionize the manufacturing of products with smart sensors like smart robots and medical devices through combining 3D printing and electric poling into a single process. The innovation will not only increase efficiency but simplify their design.
Previously, combining 3D printing and electric poling has been unheard of. Traditional sensor materials have piezoelectric properties that create smart sensors, but these materials cannot be used in the 3D printing process. Similarly, the polyvinylidene difluoride (PVdf) filament used in 3D printing to customize shapes doesn't have strong piezoelectric properties. Electric poling must then be conducted post processing, which increases time and cost.
Researchers in Purdue University's Polytechnic Institute found a way to combine both functions into a single process called electric poling-assisted additive manufacturing, or EPAM. The new design allows 3D printed parts to have strong sensing abilities by aligning the dipoles in the PVdf filament during the stretching process.

Jose Garcia-Bravo, Robert Nawrocki, and Brittany Newell, associate professors of engineering technology, as well as PhD candidate Jinsheng Fan have successfully printed PVdf force sensors with a fused deposition modeling 3D printer with a corona electric poling setup.
Nawrocki disclosed the innovation to the Purdue Research Foundation's Office of Technology Commercialization, which has applied for patent protection on the intellectual property.
Researchers now aim to commercialize the EPAM method by constructing a single 3D printing machine that can print all the sensor components including live-poled PVdF and electrodes.
See the full Purdue Research Foundation story by Steve Martin.
Additional information