The goal of the Energy Systems Credential and its seven core badges is to highlight a student's mastery of interdisciplinary topics related to energy conversion, usage and efficiency within a group of core courses.
To earn each badge, students must:
Demonstrate mastery of an energy activity in the core courses by obtaining a result for the activity that exceeds the expectations of the instructor.
Complete a set of energy surveys for the course.
In their final year, students choose from a variety of selective courses with specific badges that will improve their energy competency in a specific field or fields, such as:
Manufacturing
Transportation
Mechanics
Utilities (electric power, natural gas, renewable energy, etc.)
HVAC (heating, ventilation and air conditioning)
Program Benefits
Demonstrate competency in energy systems
Differentiate yourself as a job candidate
Enhance interdisciplinary thinking
Demonstrate exceptional performance in your courses
Access to new energy-related opportunities​
Energy System Credential Course Pathway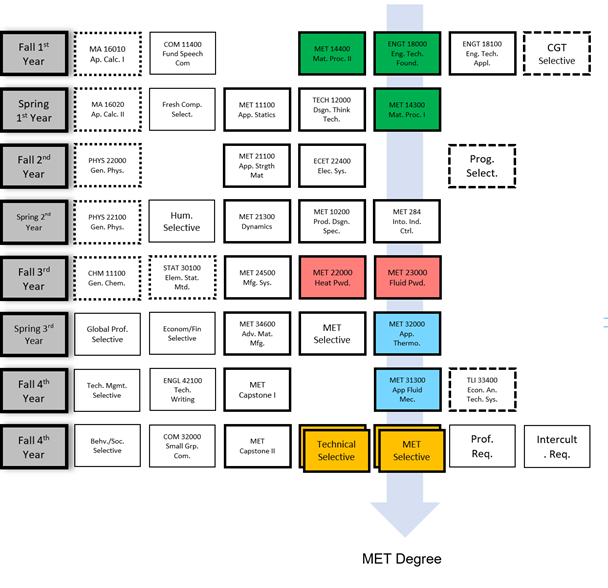 MET and Technical Selectives included in the Energy Systems Credential program include:
MET42100 Air Conditioning and Refrigeration for the HVAC Badge (emphasis area)
MET 42200 Power Plants and Energy Conversion for the Utilities Badge (emphasis area)
MET 42600 Internal Combustion Engines or MET 34400 Advanced Fluid Power for the transportation (emphasis area)
MET 43600 Pneumatics Motion Control Systems for the Manufacturing badge (emphasis area)
MET 43200 Hydraulic Motion Control Systems for the Mechanics badge
Senior Capstone and/or MET 49900 Independent studies can be used for specific emphasis areas upon approval