In a new interview with The Persistent Pursuit, Charles B. Murphy Outstanding Undergraduate Teaching Award winner Bryan Hubbard gave some revealing insights into his background and teaching method. Some of Hubbard's unique qualities as an instructor may explain why his students nominated him for the award, and why he was ultimately one of two wins among Purdue Polytechnic Institute faculty in 2023.
"Don't try to be the all-knowing expert," Hubbard (a professor in Purdue Polytechnic's School of Construction Management Technology) said. "It's OK to back up and say, 'Hey, you know, I have to go look at that a little bit. I'm going to look that up tonight, and I'll have some answers for you.'"
Hubbard partially attributes his practical outlook to his experience in private industry after graduating from Purdue in 1983. It was only in 2008 that he returned to the academic world for his career. Even in industry, he had the chance to work with interns at his job at SPX Cooling Technologies. That was how he discovered he wanted to teach. "I realized, 'Well, wait a second. I really like teaching and working with students,'" Hubbard said.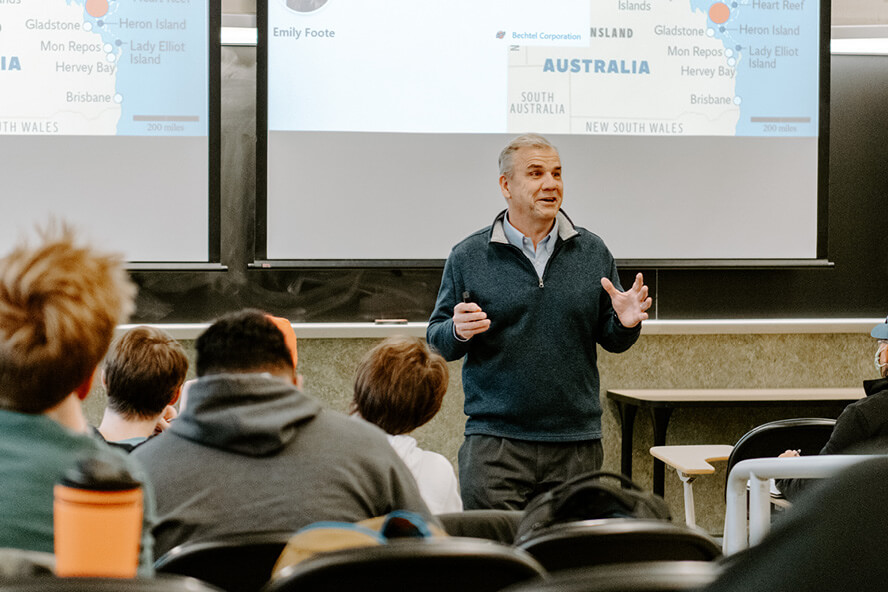 Hubbard is joined by his Purdue Polytechnic colleague Greg Strimel in receiving a Murphy Award for the 2023 academic year. This comes as the most recent in a long string of successes related to the Murphy Award for Polytechnic faculty.
The two join the ranks of Esteban Garcia Bravo, associate professor of computer graphics technology, Dawn Laux, clinical associate professor of computer and information technology, and Mark French, professor of mechanical engineering technology, all of whom have been Murphy Award winners from Purdue Polytechnic within the last six years.
Besides taking a particular interest in his students' success post-graduation ("I think what I find probably most rewarding is students who come back and I get to hear about what they're doing"), Hubbard also emphasized that he likes to "build rapport" with students. With an approachability that has become characteristic, Hubbard told the class, "I have to go back and do a better job now if you're going to give me an award for this."
Hubbard remains well-rounded in multiple facets of his career; beyond his teaching prowess, he continues to receive new patents for his designs. His third patent was granted in mid-2020 – it is a more efficient design for heat exchangers within water-cooling towers. The design will have positive ripple effects on the efficiency and environmental impact of many industrial facilities.
See the full story at The Persistent Pursuit.
Additional information