Research

Purdue is a national leader in discovery and innovation. If you are seeking opportunities to conduct research during your undergraduate academic career, look no further. Purdue University operates five research parks across the state that support over 260 technology-based companies.
Engineering

Purdue University is well known for its engineering pedigree, with multiple engineering programs ranked within the top 10 nationally. Purdue's Agricultural and Biological Engineering programs are top in the nation. The Industrial Engineering program ranks 3rd, with Civil Engineering and Aeronautical Engineering both ranking 5th. If you are looking to pursue an engineering, a Purdue degree will set you up for life.
Sports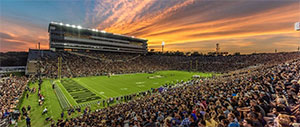 Purdue University has 18 varsity teams competing in the Big Ten Conference. Purdue is predominantly famous for its football team, men and women's basketball teams and women's volleyball. Also, the Big 10 football championship and annual basketball tournament is held in Indianapolis, along with the Indianapolis 500.
Location

Purdue University is conveniently located one hour north of Indianapolis and just two hours south of Chicago. Additionally, cities like Cincinnati, Nashville and Louisville are all within driving distance.
Living

Purdue University is a safe, low crime campus. The university has its own police and fire departments dedicated to student safety. West Lafayette offers quality neighborhoods with high caliber schools. Additionally, the city offers a low cost of living while providing a plethora of activities away from campus.
Learn more about the MECEP and STA-21 Programs