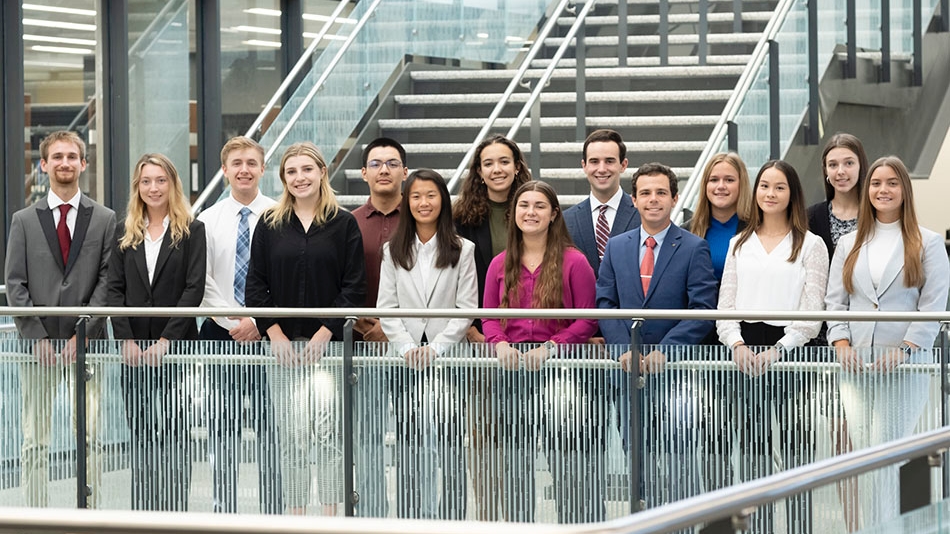 Fifteen Purdue University students, including four from Purdue's Polytechnic Institute and 11 from the College of Engineering, have been named as inaugural Kiewit Scholars.
The Kiewit Scholars from Purdue Polytechnic are Veronica Brems, Blaise King, Raul Molina and Autumn Yang. All four are majoring in construction management technology.
By the time they graduate, they'll be prepared to offer immediate value to Kiewit or another potential employer, said Mark Lundstrom, interim dean of the College of Engineering.
"In the fast-paced, fast-changing engineering and construction industry, preparing future employees while they're still at college is a smart investment," Lundstrom said.
Kiewit investing in Purdue students through scholarships, mentoring

Kiewit, one of North America's largest and most respected construction and engineering organizations, will match scholars with professional mentors in the fields students seek to pursue after graduation. Students will attend "field trips" to see construction innovation in action, visiting Kiewit job sites in the Midwest.
Last spring, 130 Purdue students applied for the program, which provides scholarships of up to $10,000 for in-state students and up to $16,000 for out-of-state students.
Eligible students are rising sophomores, juniors and seniors that demonstrate academic merit, leadership and civic engagement while pursuing the baccalaureate degrees in majors related to construction and design. In Purdue Polytechnic, the following majors are eligible:
Scholarship recipients may renew the award for their remaining undergrdauate career at Purdue by continuing to meet program qualifications including participation in Kiewit Scholars programming throughout the academic year. In addition, Kiewit Scholars will participate in programming, events, and activities meant to enhance personal and professional growth. Participation in some activities will be required as part of the Kiewit Scholars program.
After seniors graduate, additional spots will open in the program. Applications will open for the next cohort of Kiewit Scholars in the spring of 2023.
See the full article at Purdue's College of Engineering.
Additional information