Purdue University Army ROTC History

Military tradition at Purdue is as old as the University itself. As a land grant school, Purdue was required to teach engineering, agriculture, and military tactics since its founding in 1869. Classes first began at Purdue in 1874, and by 1876 Dr. Harvard Wiley was appointed Purdue's first Professor of Military Science and Tactics, drawing on his experience from the Civil War to teach students. In 1888, 1LT Pickering became the first officer appointed by the Army as Professor of Military Science, and formed the first Corps of Cadets at Purdue, which at the time was composed of a 76-man infantry platoon and 16-man artillery company. The Corps at the time had 100 Springfield rifles and 2 cannons. In 1891, mandatory military training for underclassmen males at Purdue was enforced for the first time, falling in line with the stipulations of the Land Grant College Act (Morrill Act). At the time, the Corps was trained to be a fully functional military unit, not a training program for officers.
In 1902, Captain Ira Reeves, Professor of Military Science, reorganized the now 419-man corps into 2 battalions of infantry, 1 battery of artillery, a company of engineers, a signal corps detachment, a hospital corps detachment, and a 40-piece band. Around this time the battery of artillery became a part of the Indiana Militia. In June of 1916, this battery, Battery B of the Indiana Field Artillery, mobilized under the call of President Woodrow Wilson for service in the Mexican Border War. They Reported to Fort Benjamin Harrison on June 23rd with five officers and 139 men. They left Fort Benjamin Harrison for the Texas border on July 6th, and went into camp at Llano Grande, TX. They were there until September 28th when they returned to Ft. Benjamin Harrison and were mustered out of Federal Service. Most of the men returned to Purdue University and continued their duties. The Armory also burned down in this year and was rebuilt and completed in 1918.
Also in 1916, Congress passed the National Defense Act, which created the Reserve Officers Training Corps and outlined a national standard for training. ROTC is an officer training program, in contrast to the Corps of Cadets, and at the time different universities specialized in producing officers for different Army branches. In 1919 Purdue's Corps of Cadets was officially reorganized into the ROTC program, and a poll of WWI Purdue Alumni officers chose to specialize in Field Artillery. The 1541 cadets in the program were organized into 5 artillery regiments, totaling 30 batteries, and a 25-piece band. In 1920, the first Purdue ROTC graduates commissioned as Army Officers. By 1924 Purdue had 1214 cadets, 12 French 75mm cannons, and 3 155mm howitzers, and during the period between the world wars, Purdue ROTC produced 1/8 of all Reserve Artillery officers! By 1941, Purdue ROTC enrollment peaked at 2354 cadets; that year 162 officers were commissioned.
After WWII, the underclassmen courses became branch immaterial, teaching principles used in all army branches. In the period between 1946 and 1949, Purdue added advanced courses for upperclassmen to specialize in the Ordinance, Air Corps, Transportation, Engineering, Signal, and Chemical branches, in addition to Field Artillery. Also, during this period, the Air Corps program split to become Purdue's Air Force ROTC program.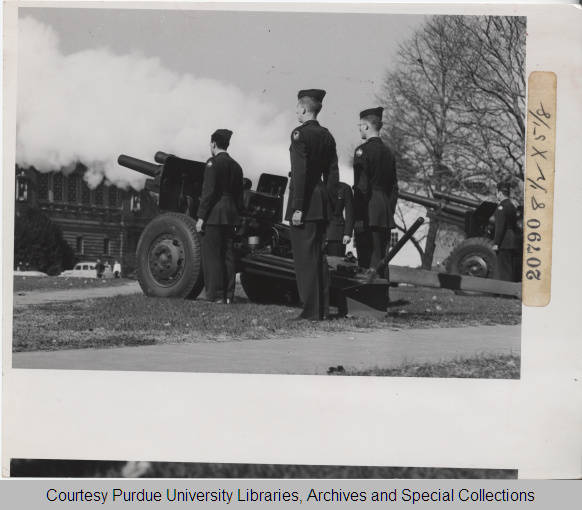 Since then, ROTC continued to grow and offer opportunities to cadets and students. In 1957, the Honor Guard was recognized by President Kennedy as National Champions. In 1966, ROTC became optional for Purdue underclassmen, and enrollment dropped from 1745 to 540. In 1973, women were allowed to enroll in ROTC. In 1989 and 1997, Purdue won the MacArthur Award for best ROTC unit in the nation. We still have an honor guard, as well as Ranger Challenge team, CrossFit club, and Tactics Club.
The Army has a long and proud presence at Purdue University that will no doubt continue for many more years to come.
For more information on Purdue Army ROTC History, we have provided an informational PowerPoint Slideshow.
1911 ROTC Inspection